Rewire 2023 programma compleet en blokkenschema online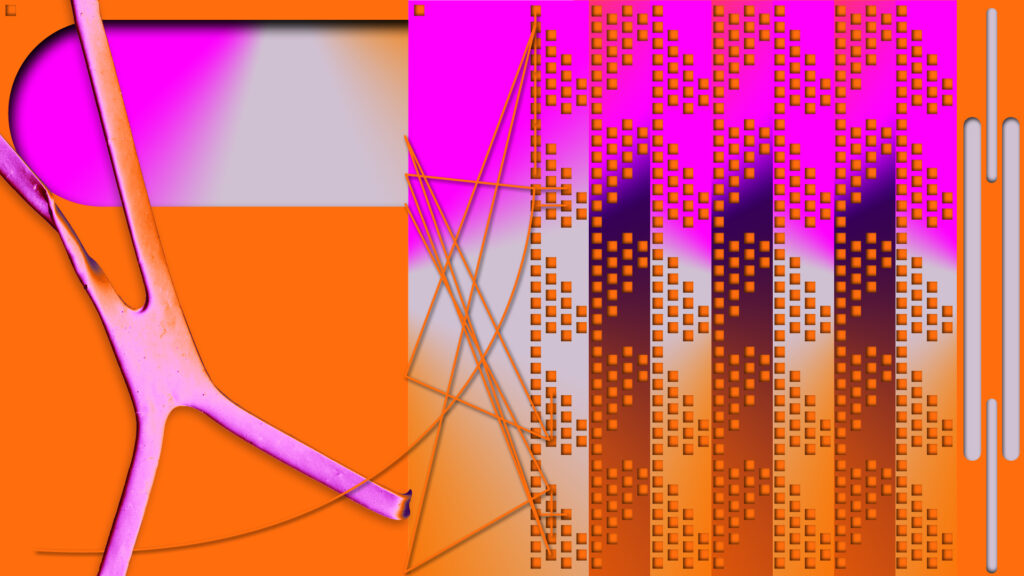 Met minder dan vier weken te gaan, onthult Rewire het volledige programma en blokkenschema voor Rewire 2023, dat van 6 – 9 april in de binnenstad van Den Haag plaatsvindt. De aankondiging bestaat uit het volledige programma, inclusief een selectie films, 16 nieuwe concerten, 4 toevoegingen aan Proximity Music, een installatie in opdracht van Das Leben am Haverkamp en Rewire, soundwalks, workshops en het blokkenschema van het festival.
Nieuwe toevoegingen aan het muziekprogramma zijn: Coby Sey komt terug naar Rewire met een vijfkoppige band om muziek van zijn nieuwe album Conduit op te voeren; Dawuna maakt zijn live debuut buiten de Verenigde Staten; Binkbeats presenteert OHM; ook bevestigd zijn: Dreamcrusher, Church Andrews & Matt Davies, Goldblum, Hiro Kone, Horse Lords, Liew Niyomkarn, Mathilde Nobel, M I M I, Morita Vargas, Paul Purgas, Soft Break, The Social Lover, en Zebra Katz. Helaas kunnen Rachika Nayar en EXPAT (Mykki Blanco & Samuel Acevedo) niet meer optreden tijdens deze editie van Rewire. We zoeken naar manieren om hun concerten later in te plannen.
Tickets voor Rewire 2023 verkopen sneller dan ooit tevoren! Een recordaantal 3-Day Passes zijn al verkocht! Via deze link koop je nog een ticket: https://www.rewirefestival.nl/tickets.
Film
Het in FIlmhuis Den Haag gepresenteerde filmprogramma werkt als een visuele tegenhanger van het muziekprogramma. De filmselectie van Rewire 2023 belichaamt ook de hoofdthema's die dit jaar voorbij komen in het Inter/Relations contextprogramma. Het zijn filmische onderzoeken naar vraagstukken rondom de Instrumental Ecologies en Times and Territories hoofdlijnen van het contextprogramma. De volledige lineup omvat een focus op het werk van geluidscomponist en artiest Trevor Mathison, die deel is van Black Audio Film Collective. Films in dit focusprogramma zijn Handsworth Songs (1986), Twilight City (1989), Who Needs A Heart (1991), en The Last Angel of History (1996). Daarnaast omvat het programma When There Is No More Music To Write, and other Roman Stories (2022) van Eric Baudelaire, Against Time (2021–2022) van Ben Russell, Last Things (2023) van Deborah Stratman, Anyox (2022) van Jessica Johnson & Ryan Ermacora, Atlantic Ragagar (2022) van Gilles Aubry en O Gemer (2021) van Xabier Erkizia.
Proximity Music: Visceral Acts, nu volledig
Ook het programma van Proximity Music: Visceral Acts, de gezamenlijke tentoonstelling van Rewire and iii, is compleet met de toevoeging van de artiesten Alexis Bellavance, Diane Mahin, Frederique Pisuisse, en Jeroen Alexander Meijer. Bekijk het volledige programma hier
Das Leben am Haverkamp x Rewire
Als onderdeel van een langetermijnsamenwerking hebben de door artiesten gerunde ruimte Das Leben am Haverkamp en Rewire Bodil Ouédraogo en Bram OwusuAs de opdracht gegeven om Framed Intimacy te presenteren, een visuele installatie die beeldhouwwerk, video, en beweging combineert met door Bram Owusu gecomponeerde muziek. De installatie is toegankelijk voor het publiek van 7 tot 9 April van 12.00–19.00 in Das Leben am Haverkamp.
Soundwalk: Beyond forgotten sounds van Margherita Brillada
Rewire presenteert ook een nieuwe soundwalk van geluidsartiest Margherita Brillada, getiteld Beyond forgotten sounds. Deze soundwalk nodigt deelnemers uit om de stad van Den Haag vanuit een ander perspectief te beleven, door aandachtig stil te staan bij zowel aanwezige als afwezige geluiden, en af te vragen hoe natuurlijke en geconstrueerde elementen invloed hebben op de geluidsbeleving van de stad. De geluidswandeling begint bij de ingang van Amare op het Spuiplein en duurt ongeveer 40 minuten. Zie hier voor meer info.
Educatieworkshop: Waveformer
Naast het muziek- en filmprogramma, organiseert Rewire ook een reeks workshops, waaronder de Waveformer workshop en performance door Musikarbeiter, gegeven in de Centrale Bibliotheek. Geïnspireerd door de filosofie van elektronische muziekpioniers Kraftwerk, nodigt deze workshop deelnemers van alle leeftijden uit om zelf een Musikarbeiter (een muziekwerker) te worden. De workshop is gratis toegankelijk in Bibliotheek Den Haag op zaterdag 8 april van 11:00 tot 16:00. OM 13:00 en 15:00 treden de Eichler Brothers ook op met de Waveformer machines in een dynamische audiovisuele show. De workshop is geschikt voor kinderen vanaf 7 jaar en ouder en is flexibel te bezoeken tijdens de openingsuren. Zie hier voor meer info.
Workshop: Sounding the Serge van Thomas Ankersmit
Nieuwsgierig naar modulaire synthesis en analoge, elektrische instrumenten? Binnen het Instrumental Ecologies thema van het contextprogramma geeft de in Berlijn gevestigde muzikant en componist Thomas Ankersmit een workshop over de unieke aspecten van de zijn Serge Synthesiser. De workshop is op vrijdagmiddag in The Grey Space in the Middle. Registreer hier voor de workshop.
Rewire x Carhartt WIP instore
Op zaterdag 8 April slaan Rewire en Carhartt WIP de handen ineen voor een instore event in de Haagse platenzaak 3345. De line-up wordt binnenkort aangekondigd.
Blokkenschema & Festival app
We zijn verheugd om het blokkenschema van Rewire 2023 te onthullen! Pluis vanaf nu dus uit wanneer elke artiest optreedt en begin met de planning van jouw festivalroutes via ons Blokkenschema.
Let er op dat vermelde tijden nog gewijzigd kunnen worden. Hou voor de laatste updates onze website in de gaten. Geprinte blokkenschema's zullen samen met het programmaboekje beschikbaar worden gemaakt bij de Festival Ticket & Info Desk.
Voor de tweede keer werkt Rewire samen met Timesquare om de interactieve festivalapp voor Rewire 2023 te presenteren. De app geeft gebruikers de mogelijkheid het digitale blokkenschema en het programme te verkennen en hun festivalroutes uit te stippelen door artiesten op te slaan in hun Favorieten. Bovendien is er de optie om reminder in te stellen voor wanneer die artiesten gaan optreden.
Compleet Rewire 2023 programma per dag:
Donderdag 6 april
Rewire 2023 openingsprogramma:
Rewire Reflections – Writing about Listening – Conversation
CASS concert – Performances and installations by students from Composition, ArtScience & Sonology at the University of the Arts The Hague – Music
Inter/relations – with Heloisa Amaral, Budhaditya Chattopadhyay, Carla Maier, and Mark Peter Wright – Conversation
The Soundscape Speaks – by Hildegard Westerkamp (audio contribution) – Listening session
Sonus and Sonic Entanglements – with meLê yamomo – Conversation
Visceral Acts (of environmental listening)  – with Vivian Caccuri, Matteo Marangoni, Vica Pacheco, and Naomi Rincón Gallardo – Conversation
TIMEZONES: Staying Creative Between Beauty and Chaos in Rio de Janeiro – with Vivian Caccuri and Hannes Liechti – Listening session
TIMEZONES: Ears on/of Makiling – with Hannes Liechti and meLê yamomo – Listening session
Radio WORM x Rewire – Interviews, reports, and live streaming at The Grey Space in The Middle
Vrijdag 7 april 
Muziek:
ABADIR feat. HOGIR
Afrorack
Aquarian
Aura Satz, Rhodri Davies & Julia Eckhardt 'Occam Delta XX' – wereldpremière
Binkbeats 'OHM'
Bitter Babe b2b Manuka Honey
Coby Sey
CS + Kreme
Dienne
Dreamcrusher
Dylan Henner
Ellen Arkbro & Johan Graden
Ellen Fullman & The Living Earth Show 'Elemental View'
Enxin/Onyx
Fever Ray
HTRK
LSDXOXO (live)
Lucy Gooch
Lucy Liyou
Maoupa Mazzocchetti with Luna Maria Cedrón & Samir Aouad 'The Heels of Joy' – wereldpremière
Martha Skye Murphy
Mathilde Nobel
Matthew Herbert & Julian Sartorius – wereldpremière
Oscar Peters 'Echos' – wereldpremière
Peter Zummo & KAKUHAN – wereldpremière
Rainy Miller
Safety Trance
Youniss
Zoë Mc Pherson & Alessandra Leone 'Pitch Blender'
Context:
Tuning In – by Liew Niyomkarn – Listening session
Poetics of Listening – with Brandon LaBelle – Listening session
Instrumental Ecologies – with Mark Peter Wright, Matthew Biederman & Pierce Warnecke, Carla Maier, and Liew Niyomkarn – Conversation
TIMEZONES  – Listening station at Page Not Found
Sounding with the Serge Modular – workshop by Thomas Ankersmit
Radio WORM x Rewire – Interviews, reports, and live streaming at The Grey Space in The Middle
Film:
Handsworth Songs (Black Audio Film Collective)
When There Is No More Music to Write, and Other Roman Stories (Eric Baudelaire)
Anyox (Jessica Johnson & Ryan Ermacora)
Zaterdag 8 april
Muziek:
33 (Billy Bultheel & Alexander Iezzi)
Aleksandra Słyz 'A Vibrant Touch'
Alto Arc – wereldpremière
Amnesia Scanner & Freeka Tet 'Snaptrance.webcam'
Authentically Plastic
Dale Cornish
Daniel Blumberg 'GUT'
Deena Abdelwahed
Elvin Brandhi
Godspeed You! Black Emperor
Goldblum
Hatis Noit
Himera (live A/V) – wereldpremière
Hiro Kone
Horse Lords
Infinity Knives & Brian Ennals
Julia Reidy
KAKUHAN
Liew Niyomkarn
Lucinda Chua
Malibu
M I M I
Moin
Morita Vargas
Nadah El Shazly & Elvin Brandhi
Nwando Ebizie 'The Swan'
Oscar Peters 'Echos' – wereldpremière
Osheyack
Paul Purgas 'Tape Music'
Rewire x Carhartt WIP instore
Sarahsson
Sélébéyone
Slikback x Weirdcore 'VOID'
Soft Break
The Dwarfs of East Agouza
The Paper Ensemble & Ale Hop '#17' – wereldpremière
The Social Lover
Thomas Ankersmit
TLF Trio
Tzusing
Context:
Veering Voices – with Lucy Liyou, Hatis Noit, and Pamela Z – Conversation
Poetics of Listening – with Brandon LaBelle – Listening session
Elements of Sounding – with Ellen Fullman and Pak Yan Lau – Conversation
Times and Territories – with Budhaditya Chattopadhyay, Afrorack, Maria Chávez, Paul Purgas, Joe Rainey, Stas Sharifullin, and more – Conversation
Expanding Turntablism – with Maria Chávez, Mariam Rezaei, Victoria Shen – Conversation
TIMEZONES  – Listening station at Page Not Found
Radio WORM x Rewire – Interviews, reports and live streaming at The Grey Space in The Middle
Film:
Twilight City (Black Audio Film Collective)
Who Needs A Heart (Black Audio Film Collective)
Atlantic Ragagar (Gilles Aubry)
Last Things (Deborah Stratman)
Soundwalk:
Beyond forgotten sounds by Margherita Brillada
Educatie:
Waveformer by Musikarbeiter
Zondag 9 april
Muziek:
Ana Roxanne
Church Andrews & Matt Davies
Dawuna
Ghosted (Oren Ambarchi / Johan Berthling / Andreas Werliin)
Grand River 'All Above'
Joe Rainey & String Quartet
Kelela
Leslee Smucker 'Worlds Within' – wereldpremière
M. Takara & Carla Boregas
Maria Chavez + Mariam Rezaei + Victoria Shen – wereldpremière
No Plexus – wereldpremière
Okkyung Lee's Yeo-Neun Quartet
Pak Yan Lau 'Bakunawa'
Pamela Z 'A Secret Code'
Patrick Belaga, Asma Maroof & Tapiwa Svosve 'The Sport of Love'
Pavel Milyakov & Perila – wereldpremière
Pierce Warnecke & Matthew Biederman 'Spillover'
Soundwalk Collective & Patti Smith 'Correspondences' – wereldpremière
Steve Gunn & David Moore
Tatiana Koleva & Zhivko Vasilev
Tim Hecker & Vincent de Belleval – wereldpremière
upsammy & Jonathan Castro 'Germ in a Population of Buildings' – wereldpremière
Waclaw Zimpel & Ben Kreukniet – wereldpremière
Zoh Amba with Johan Berthling & Frank Rosaly
Context:
Musicking Resistance – with Giada Dalla Bontà, Andrius Arutiunian, and more
Sampling Stories  – with Hannes Liechti, ABADIR and more artists tbc – Conversation
A conversation with Patti Smith & Soundwalk Collective  
Ritual Time – with Nwando Ebizie – Listening session
TIMEZONES – Listening station at Page Not Found
Radio WORM x Rewire – Interviews, reports, and live streaming at The Grey Space in The Middle
Film:
Against Time (Ben Russell)
The Last Angel of History (Black Audio Film Collective)
O Gemer (Xabier Erkizia)
Soundwalk:
Beyond forgotten sounds by Margherita Brillada
Alle festivaldagen (7–9 april)
Proximity Music: Visceral Acts
Aernoudt Jacobs 'Glass Vibration Gaze'
Amos Peled 'Phantom Limb' – wereldpremière
Dominik 't Jolle & Maria Komarova 'Tinnere. Behind the Tune'
Jeroen Alexander Meijer 'Ouroboros'
Karel van Laere 'Reach'
Matteo Marangoni & Dieter Vandoren 'Komorebi'
Naama Tsabar 'Untitled (Without) variation 1 & Ruptures (Opus 1)'
Naomi Rincon Gallardo 'Sonnet of Vermin & The Vermin's Radio'
Vica Pacheco 'Mitote & Ollin' – wereldpremière
Vivian Caccuri & Thiago Lanis 'Fantasma Boca (Mouth Ghost)' – wereldpremière
Das Leben am Hawerkamp x Rewire
Framed Intimacy by Bodil Ouédraogo and Bram Owusu